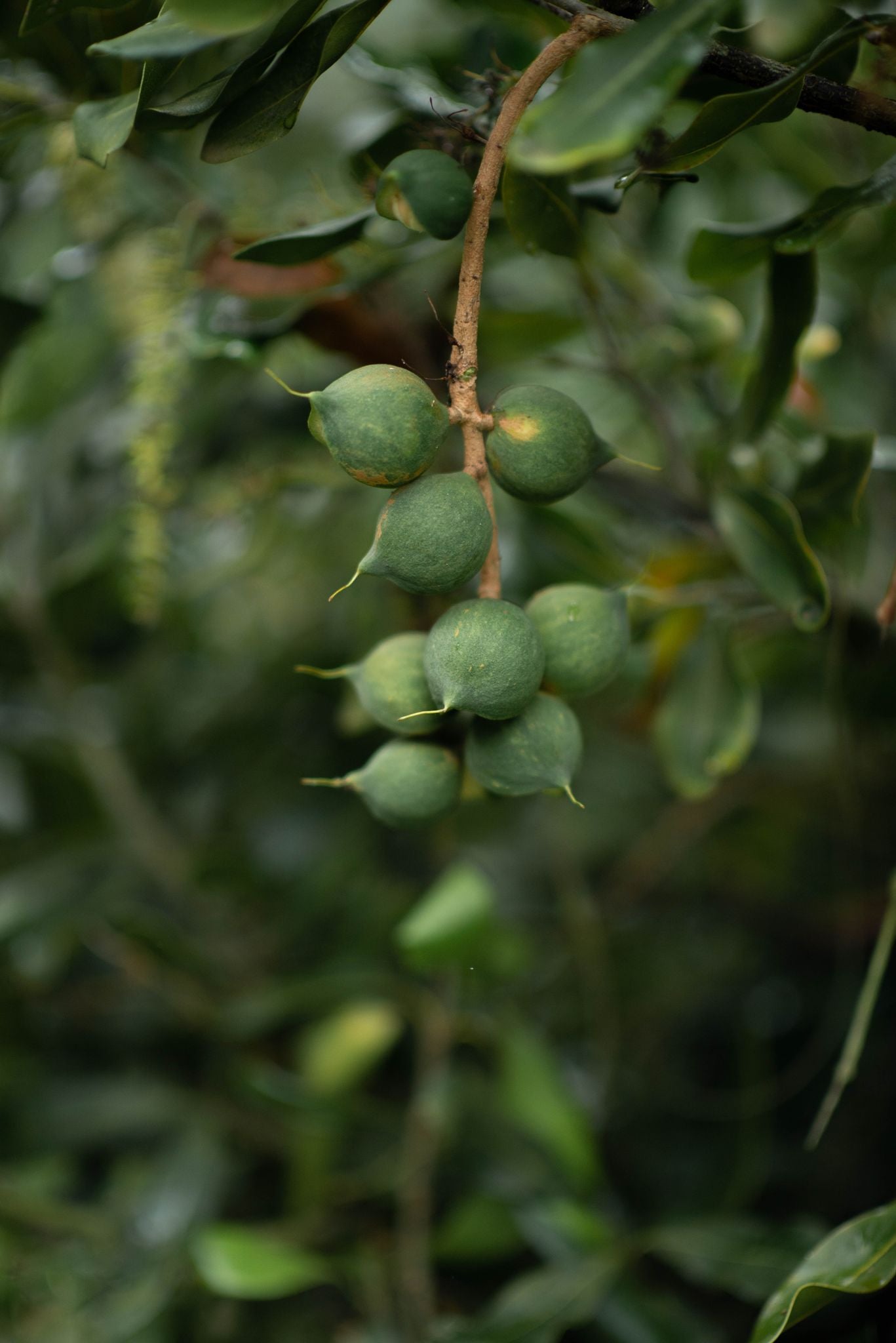 Why Mac Nut Oil?
Macadamia nut oil's most distinctive attribute is its high level of Palmitoleic Acid,otherwise known as Omega 7. It has a chemical profile similar to sebum; the fatty acidsecreted by the skin that makes the skin plump and dewy, which decreases with age. This Omega 7 acid is responsible for softening the skin and creating skin elasticity.
MacNut Oil contains nearly 20% Palmitoleic Acid. Macadamia nut oil has high phytochemicals of both Tocotrienols (T3) and Squalene. T3is considered the most important naturally antioxidant. It has neuroprotective andantioxidant properties. It penetrates quickly through the skin and minimizes UV-inducedoxidative stress.
When topically applied, the Vitamin E enriches the skin's moisturization dramatically. The vitamin E in the oil dramatically reduces lines and scars. The Squalene in our oil is a major component of human skin surface lipids and protects skin from harmful UV-induced lipid peroxidation. Applying mac nut oil (vegan source ofsqualene) to the face will prevent sunlight induced stress and rebuild the skin, healingand age-defying.
Macadamia nut oil is very shelf stable, and our cold-pressed virgin oil, with its rich texture and high fatty acid profile, has a high oxidative stability and is asuperior product brought to you in its purest form.
More Info
The use of macadamia nut oil on skin is growing in popularity because of the many benefits and nutrients it provides to the skin such as oleic acid, a nutrient that stands out for its high penetration capacity on the skin, extra beneficial for dry skin and conditions such as eczema.
It also contains a high concentration of group B vitamins. Vitamin B3 or niacin, improves the skin's repair mechanisms against external combatants  such as UV rays, atmospheric pollution or cold. The skin is the largest organ and first defense, acting as a protective shield, and therefore it is of great importance to protect it every day to promote its regeneration and ensure that it fulfills its function.
The rich protein content provides elasticity and firmness to the skin. Mac Nut oil also has essential trace elements such as selenium and zinc. Selenium provides flexibility to tissues and delays skin aging. Zinc enhances collagen synthesis. The  high content of essential fatty acids, which are the main component of the skin barrier, makes it so macadamia oil penetrates the skin rapidly without leaving any residue behind and has an immediate softening effect on the skin.
Due to the high content of monounsaturated fatty acids and high content of other vegan bioactive compounds such as tocopherols, phytosterols and squalene it is superior for skin repair, moisturizing, and anti-ageing. You will find it used in products intended for bleaching dark spots, regenerating the skin after excessive exposure to UV radiation, and reducing wrinkles.